Presentation:
https://www.urban-software.com/products ... downloads/
nmidCreatePDF has been renamed to CereusReporting
This plugin enables users to create PDF Reports from a tree/leaf. Attached is an example report showing the 2x2 page design.
Documentation:
The Installation and Configuration can be downloaded from the
Product Download Page
----
Time limited Corporate Edition is available now !
https://www.urban-software.com/products ... trial-key/
----
Features:
All Versions:
Support for Portrait, Landscape, A3,A4,A5,Legal,Letter
Support for 2 columnar display of PDF graphs
Ability to select graphs to be included into the PDF Report
PDF Files now contain bookmarks to each graph ( mPDF Report Engine only ) (

new!

)
Differen Report Engines selectable (

new!

)
Unicode ( UTF-8 ) support (mPDF Report Engine only) (

new!

)
Special Graph Reports (

new!

)
Option to have graph images link back to cacti
Option to display hostname as report title when only a host is selected
User selectable report format panel
OS Independant. IonCube loader required.
Report backup/Restore functionality
Additional Features for the Corporate Edition:
Optional custom cover page per tree
Logo can be defined per tree
No Footer Message
Archiving functionality (

new!

)
Different support options selectable (

new!

)
Multi Report type with Chapers, Titles, Text, DSSTats, Smokeping and Graph Support (

new!

)
Send PDF/HTML report via email
Schedule PDF/HTML report generation
Cron/At or Poller based scheduling
Graph generation can be multi-threaded
Logo defined per Report ( since 0.5c )
CoverPage defined per Report ( since 0.5c )
Re-ordering of graphs on the Graph-Report ( since 0.5c )
DSStats Report generation support
Update ability ( since 0.5c )
SLA/Availability Reporting ( per device / group of devices )
Weathermap Support
SQL Reports (local database server only ftm)
Report on failed polls
Allow Users to view created/archived reports only
Screenshots: Report Samples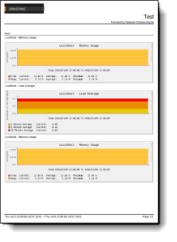 |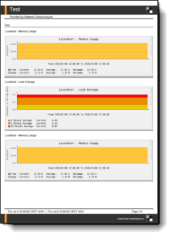 |